Blog
Building solid maths foundations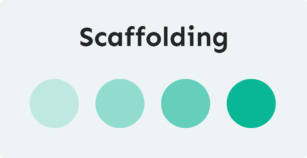 At Numerise, our aim is to completely change people's perception of maths. Maths anxiety is on the up and we want to not only build learners' confidence in maths, but also improve their maths skills and make them fall in love with the subject (although we will settle for liking it if we need to…)
This blog is the first in a series where we talk about some of the learning techniques that we use within Numerise to help learners not only understand new, tricky maths skills but remember them for longer.

We have blogs on two other learning techniques used in Numerise: interleaving and spacing.
When learners are faced with a topic they haven't seen before, it's really important to get the difficulty of the content just right. Too easy and they aren't learning anything new. Too difficult and confidence takes a hit. One of the tried and tested techniques we use in Numerise to hit that learning sweet spot is called scaffolding.
What is scaffolding?
Scaffolding is where learning is structured in a way that helps students tackle material that they wouldn't necessarily be able to without the support. It works in a similar way to physical scaffolding!
When is it best to use scaffolding?
Scaffolding works best when learners are faced with new or unfamiliar maths concepts. Once a mathematical concept is understood it's time to embed the knowledge and make sure the learning sticks – a blog on this is coming soon!
How do we use scaffolding in Numerise?
There are a few different approaches to scaffolding that we have built into all of our content in Numerise:
We start each of our topics with a question we're confident the student can tackle and slowly add new elements of complexity. The aim is to never have a jump in difficulty that students can't overcome themselves.
Each question has a specific 'learning point' – a piece of understanding we want students to demonstrate by answering the question. There is a help video available within every question that will explain the learning point. This means misconceptions are rectified early and confidence can be built up.
Students only move onto new concepts once previous concepts have been understood and mastered. This ensures the foundations are solid and there are no gaps in learning that could cause problems later on.
We often use worked examples, key layouts or extra hints to point students towards the right method early on. Once students demonstrate they can tackle these problems with the support, it is removed, piece by piece, until students are answering complex questions without assistance. They'll be smashing tricky maths without even realising it!
An example – finding the area of rectangles
Here are the first few questions on 'finding the area of rectangles' from our Key Stage 3 – Level 1 course. At this stage, students will have just covered finding the area by counting squares.

We start with high levels of support. Students can answer the first question by counting squares, which they'll be familiar with, but in this question we're showing the side lengths at the same time. This helps students link their previous knowledge to the new idea they will be tackling in this question set – finding the area from side lengths.
In the second question we only show partial grid lines. This encourages students to move away from their previous 'counting' method. Some students may need the video support at this stage which will explain how to find the area without counting. By the third question students are presented with the key question we want them to be able to answer, without the supporting grid-lines.
Once an underlying skill is mastered, this allows us to begin asking questions in unfamiliar ways and linking to other areas of maths. Students are ready to start tackling those meaty problem-solving questions.
What do our learners think?
Numerise teaches you different things, but on every lesson, it focuses on one thing so you can get the hang of it. You don't have to be independent on this, you can ask for help – there is also a video, which definitely helps.
I love this app. It's so much fun and really good because, unlike workbooks, there is something that explains the problems or sums if you don't understand them.
It is very good with good questions and if you need help you can just watch the video.
Ever since i've started using numerise i've been a lot more confident. It is just the right amount of work, and it's not too challenging and not too hard.
This is really amazing. It's still going really well and the support videos are amazingly helpful! To conclude my opinion, it's the best maths website that is out there! Thank you for this amazing website and I hope that you continue your work on this!